Will Ord is Director of Thinking Education Ltd., an education training company based in England. He has worked in education for 30 years and trained teachers in over 20 countries. His conference keynote speeches and courses receive over 95% 'Excellent' feedback. 
Will has two philosophy degrees, a PGCE, has been a Head of a Religious Education department, a school governor and Associate Lecturer at Oxford Brookes University. He has been an author, writer for The Times Educational Supplement (Tes), and was Professional Officer for ACT (The Association for Citizenship Teaching).  He was Chair of SAPERE (the UK Philosophy for Children charity) from 2003 – 2006. He strongly believes that young people need to be taught how to think and communicate well for great learning, the quality of their relationships, and in their role as active citizens in the 21st century. "Will Ord was brilliant!  In spite of meeting at the end of a busy term, everyone felt invigorated by what he was saying. Will tried to tailor his presentation to diverse requests, and he succeeded!  We were all left
wanting more!"
Head of St Paul's Primary School, Maidenhead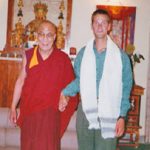 Life High Point (and name drop): Interviewing the Dalai Lama in the Himalayas during a research project into Tibetan reincarnation.
Life Low Point: Having chronic diarrhea, a badly sprained ankle, and a squat-hole for a toilet sixty yards up a Himalayan mountain path. For three weeks.